How to Get Smoke Smell Out of a Car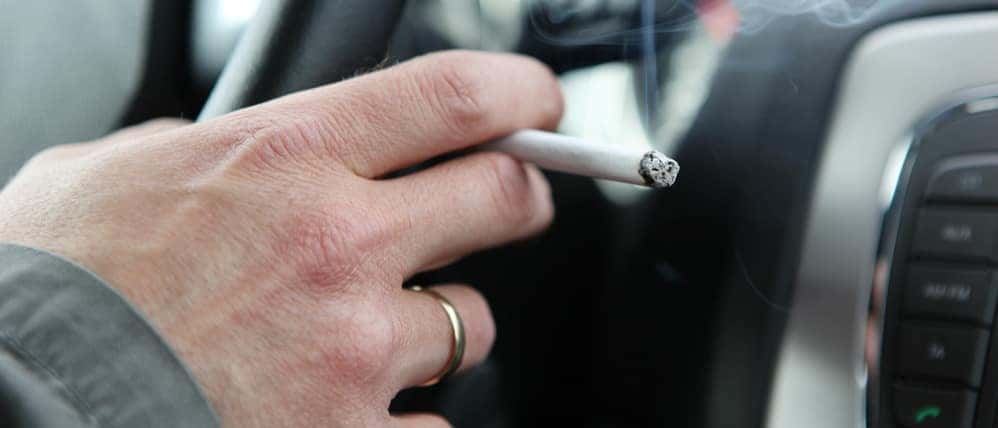 Getting a great car at a great price usually means buying used cars for most drivers. Unfortunately, that also means dealing with the previous driver's minor issues left behind. Smoke, in particular, settles deep in soft textiles, and coats fibers inside your seats and surfaces. So, you may be wondering how to get smoke smell out of a car. Get smoke smell out of car surfaces with this handy guide from Mainline Chrysler.
How to Remove the Smoke Smell from Carpet and Upholstery
How to get rid of smoke smell in a car depends on whether you're trying to get it out of carpet and upholstery, or leather. To remove smoke smell from car upholstery and carpet, grab a big box of baking soda and a vacuum. Once you're settled, take the following steps:
Vacuum the carpet and upholstery completely, and carefully. Be sure to reach under the seats and down deep seams and crevices too to make sure you grab any old ash that's fallen into those areas.
Use baking soda, an odor neutralizer that captures most unpleasant scents, by sprinkling it all over the upholstery and carpet.
Once the baking soda has sat for a while, vacuum all the soft surfaces again. Repeat the process if you're still noticing the scent in your car.
Leave the open box of remaining baking soda in your vehicle overnight to continue removing any leftover scent from the air.
How to Remove the Smoke Smell From Leather and Trim
Smoke smell can also permeate leather, and leave a residue on other surfaces. A special cleaner that's made specifically for the surface that needs cleaning is required in these instances. For example, use a cleaner specifically made for leather or for your car's dashboard. If you're cleaning leather or vinyl, use the cleaning solution multiple times, since smoke can end up deep below the surface of leather and trim. Multiple cleanings can ensure you've fully removed the scent, and the residue left behind.
What About Other Areas in Your Car?
Once your upholstery, carpet, and trim are cleaned, it's time to work on the other surfaces in your car. Wipe down your windows, the front and back windshield, and replace your air filter, since smoke smell can also end up in the air vents.
Find Your Perfect Vehicle at Mainline Chrysler
Are you feeling fed up with figuring out how to get cigarette smell out of car upholstery and leather? Bring it on over to Mainline Chrysler for our auto detailing service. Our service professionals can also help you deal with car leaks, regular maintenance, and more! Or, if you're ready to look at one of our new vehicles with that wonderful new car smell in the Regina or Swift Current areas, stop by to see us in Rosetown. Contact us to get started today!
More from Mainline Chrysler
Looking to make your Jeep Wrangler feel and perform just how you'd like? It's doable using the available 2019 Jeep Wrangler accessories for sale at Mainline Chrysler. Your choices range as far as roof-top cargo carriers to performance parts like air-intake snorkels when it comes to accessories for the Wrangler, so learn about the options for…

It's no surprise the 2019 Jeep Cherokee ranks in the top 15 of U.S. News and World Report's list of compact SUVs. Want to know why Saskatoon area drivers find it checks so many boxes in their list of unique needs? It's because of the number of Jeep Cherokee configurations available, with the option of…

The new Jeep Grand Cherokee for sale at Mainline Chrysler delivers up to 3,266 kg of towing capacity when properly equipped. Four available high-power engines deliver that Jeep Grand Cherokee towing capacity, and give Saskatoon drivers quality performance to meet every unique need. Take a look at our extensive inventory of Grand Cherokee in Rosetown, and…